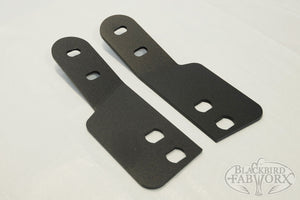 Secure your removable hard top to the car with the Blackbird Fabworx hard top brackets.
The design allows the bracket to compress the rubber seal at the front for a solid weather tight fitment.
These are laser cut out of 1/8" Steel, then CNC bent and finally powder coated in light texture Black to match the finish of the factory hard top interior trim.
Want an additional measure of security?
Pair the front brackets with one of the two styles of side brackets that we offer are well -
Hard Top Side Brackets for NC with the soft top in place
Hard Top Side Brackets for NC with the soft top delete