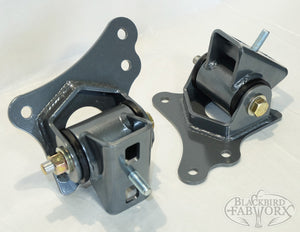 Blackbird Fabworx engine mounts for the 1.8L Miata of the NA generation between 94-97 and the NB generation between 99-00 - a must for every performance enthusiast!
Complete replacement set to the factory setup with stronger bushing design for better durability.
Available in standard OEM height or as Drop Mounts, and with a choice of the Street Performance or Competition bushings.
These mounts reduce engine motion and thus offer a drastic improvement in shifting quality over the Mazda mounts, so say goodbye to the common mis-shifts!
The Street Performance bushings are geared towards the spiritedly driven street cars including some track use (at the cost of some increase in NVH) while the Competition bushings are the recommended only for heavy track users and dedicated race cars due to a significant increase in NVH.
The drop mounts lower the engine by about 1/2", setting the bottom of the oil pan flush with the bottom of the subframe.
With the engine being the single heaviest component of the car, lowering it will lower the center of gravity, reducing weight transfer for improved cornering grip and better steering feel.

Due to the million available combinations of header / intake / turbo / downpipe / etc.. we highly recommend that you verify that your engine has the room to move down 1/2" prior to ordering, and when in doubt - order the standard OEM height mounts. 
Drop mounts are NOT recommended for "slammed" Miatas!
Fits 1.8L engines only.
If your swapped engine to a VVT or Mazdaspeed Miata engine, we recommend  the correct mounts that match your engine year (not the chassis).