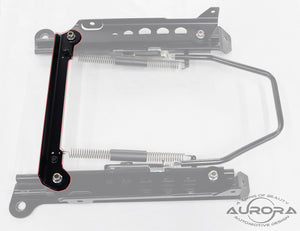 This product allows the early adopters of the Aurora Auto Design Low Profile Seat Mount V1.0 to update their seat mounts by adding the cross brace that is now included in the kit as standard (referred to as V2.0, shipped starting Feb 2020).
See highlighted part in the photo for clarification - SEAT BASE IS NOT INCLUDED.

The installation is fairly simple and save the removal of the seat itself from the car does not require the complete disassembly of the base, but rather just removing two of the bolts, sliding the brace into place and reinstalling everything back as it was plus a couple of extra bolts.
The additional hardware is included.